Copyright © 2022 Allthegoodies.com
CONTACT
e: norwaycation@allthegoodies.com
This section covers South Western
Norway with cities like Stavanger,
Sandnes and Haugesund and areas
like Jæren, Sola, Ålgård. Stavanger is
known as the oil capital of Norway,
Haugesund as the cultural capital
with film and jazz festivals. Rogaland
is home to the Norwegian Oil
Museum and Kongeparken theme
park
Tap on each image below to open
video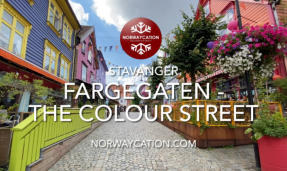 Fargegaten - «The Colour Street» - is
one of Stavanger´s most popular
and Instagram friendly attractions
and in the evening, one of the best
party areas with all its bars and
restaurants.
A visit to Vågen - Stavanger
Harbour - at night in summer, with
all the luxury yachs, restaurants,
bars and bustling crowd.
Renaa Xpress is a relaxed restaurant
in Stavanger´s most central location
in Sølvberget - with the cinema and
library as the closest neighbours. On
the menu are breakfast, pancakes,
sour dough sandwiches, salads,
soups and 15 different pizzas from
the wood fired oven.
Comfort Hotel Square is a modern
and reasonable priced hotel in
Stavanger. It is located in Løkke-
veien, looking down on the city
center. From the hotel and down to
Vågen is only a 3 minutes walk.
Sola Strand Hotel is one of very few
beach hotels in Norway and is
located directly on Solastranden -
the Sola Beach - outside Stavanger
in Western Norway with direct
access to the North Sea. The hotel is
a member of the Historic Hotels
chain and is a nice spa hotel as well.
Sirkus Renaa, located just a short
walk from the centre of Stavanger, is
a great mix of an ice cream parlour,
a bakery and pastry shop, a sand-
wich shop, a pizzeria, a chocolate
shop, a lunch and dinner restaurant
and a bar.
It is not so often you get in a good
mood just to look at a building, but
the refurbishment of the former
storehouse and repair shop for the
farmers cooperative into Eilert
Smith Hotel in Stavanger, does just
that.
The Valberg Tower is a landmark in
Stavanger. With its location in the
middle of the city center, you can
spot it from almost everywhere in
the city. And this also explains why
the first version was built in about
1650 as a watch tower for fires.
In Hafrsfjord, right outside
Stavanger, you will find one of
Norway´s most famous landmarks,
the monument «Sverd i stein» - or
«Swords in Rock» in English.
Stavanger has hotels for evry taste
and wallet. In this video we present
a selection of the best hotels here.
Frogner House Apartments is an
affordable but quite cool alternative
to the hotels in Stavanger. Located
at the same place as Sirkus Renaa
In the summer, when the weather
is nice, Stavanger comes to life in
the evening
A perfect place to watch a beautiful
sunset is at Sola Beach outside
Stavanger.
The Norwegian Oil Museum in
Stavanger tells the story about the
Norwegian Oil Aera in The North
Sea
A visit to one of Norway's largest
themeparks - Kongeparken.
Located about 30 min drive from
Stavanger