Copyright © 2022 Allthegoodies.com
CONTACT
e: norwaycation@allthegoodies.com
Norwegians love beeing out in the
nature, either on cross country skis in
winter or hiking in summer. In
Southern Norway, there are over
20.000 km marked hiking routes in
summer and 4300 in winter, so it is
more enough room for everyone.
Organizations like Den Norske
Turistforening marks routes with a red
letter T, so it is easyto stay on the right
track in the marked routes. They also
offer in total more than 500 tourist
cabins for rent (from easy accessible
to very remote), about 50 are manned.
Tap on each of the images below to
open the video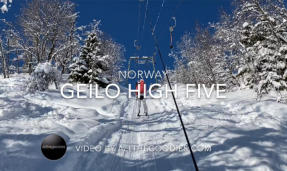 Ski Geilo has introduced a new
challenge - the Geilo High Five. Visit
five peaks over 1000 m within the ski
area. Get a punchcard and a map
and join the challenge which
includes free coffee or hot
chocolate.
All lifts and slopes in the skiresort
Geilo at the same day - two valleys,
five mountain sides. First all slopes
at the «Geiloside», then the skibus to
Vestlia and Kikut and all slopes
there. In this video we show you a
suggested route.
If you need to take your mind away
from everything at the moment, a
video of snow kiting at a remote
place such as Hardangervidda
Mountain Plateau in Norway can be
an alternative.
Geilo has a lot of beautiful mountain
trails and this one is one of the
nicest. You can either start at
Tuftelia, 4 km west of Geilo and do a
roundtrip or start at Presthold below
Hallingskarvet and just walk down
to Tuftelia. You meet both wast
mountain landscape, rivers and
waterfalls, steep canyons and forest
on your way, with some amazing
views of Geilo and Ustedalen as well.
Tuva Turisthytte is a tourist cabin
located at Hardanervudda, not far
from Ustaoset and Geilo. In this
video we visit the cafe and explore
the beautiful mountain area in
summer. A perfect starting point for
hikes.
The beautiful Lake Ustedalsfjorden
plays an important part in the
activity offers in Geilo, both summer
and winter. To give you the
impression of the beutiful scenary
and variety of sights, we take you on
a round trip, crossing small rivers, a
huge waterfall, historical viking
graves, woods, a golf course and the
beach.
A gravel mountain road to the
backside of Hallingskarvet
mountain range. When you have
conquered the first steep climb, you
enter a flat and open mountain area
with beautiful lakes and great views
Why not make the the trip to Mount
Fløyen a hike, instead of using the
funicular. In this video, we show you
the whole route (the easiest one) to
the top.
Skansen is a viewpoint in Bergen
and a great alternative to go all the
way up to Mount Fløyen to get an
overview of the city. It is possible to
walk up in just 10-20 minutes in a
quite steep hike
If you want a spectacular view of
Bergen, visit Mount Ulriken. This is
the highest mountain in Bergen
and has a spectacular view over
Bergen and its surroundings.
Access with new (2021) gondola lift
In 2013, Sherpas from Nepal built
stone stairs all the way to the top of
Mount Hallingskarvet, which made
the hike accessible for a lot more
visitors. In this video we show you
how to get there and the hike to the
top of the stairs and further on
Prestholtrunden - a roundtrip which
ends up back at Prestholtseter.
Gaustatoppen is one of Norway´s
most famous mountains. On a clear
day, you can see as much as 1/6 of
Norway and all the way to Denmark
from the top.
If you take the Flåm Railway to
Myrdal and walk back towards
Vatnahalsen and head down a few
of the serpentine turns, you pass a
huge waterfall
At the western part of the
Hardangervidda Mountain Plateau,
where the mountains dive into the
fjords, you will find one of Norway´s
largest dams. This is also a tourist
attraction for both visitors passing
by their car and for cruise tourists
visiting Eidfjord in Hardanger.
One of the most amazing activities
you can attend when visiting Flåm,
is to rent a bike in Flåm, bring it
with you on Flåmsbana to Myrdal
and ride it back to Flåm. you follow
the river and pass some beautiful
waterfalls