CONTACT
e: norwaycation@allthegoodies.com
Copyright
©
2022 allthegoodies.com
We here present attractions and things to do in Stavanger for cruise tourists. Guests visiting
by cruise ships, normally only have a short day to experience the city, so what shall they do
to get the most out of their short time here. There is propably no time to hike to Prekestolen
and Kjerag (but it is possible with a boattrip to Lysefjorden to see both from below), so our
tips are mostly
focused on attractions in the center of Stavanger
Tap on each image below to open video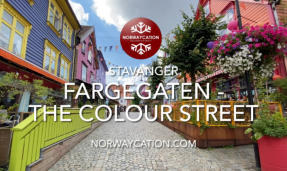 More to come soon: The
restaurants and bars in Vågen, Best
dining areas, Sølvberget & the
pedestrian area. Gamle Stavanger,
Domkirken & Breivannet, Nuart
Grafitti Festival,
Further away: Kongeparken,
Sverdene Hafrsfjord, The
Underwater Tunnels and Utstein
kloster, Hinna park Tower,,
Ullanhaug Medieval Park, The
Beaches of Rogaland (sola, ølberg
osv),
Fargegaten - «The Colour Street» - is
one of Stavanger´s most popular
and Instagram friendly attractions
and in the evening, one of the best
party areas with all its bars and
restaurants.
A visit to Vågen - Stavanger
Harbour - at night in summer, with
all the luxury yachs, restaurants,
bars and bustling crowd.
Renaa Xpress is a relaxed restaurant
in Stavanger´s most central location
in Sølvberget - with the cinema and
library as the closest neighbours. On
the menu are breakfast, pancakes,
sour dough sandwiches, salads,
soups and 15 different pizzas from
the wood fired oven.
Sirkus Renaa, located just a short
walk from the centre of Stavanger,
is a great mix of an ice cream
parlour, a bakery and pastry shop, a
sandwich shop, a pizzeria, a
chocolate shop, a lunch and dinner
restaurant and a bar.
A perfect place to watch a beautiful
sunset is at Sola Beach outside
Stavanger.
The Valberg Tower is a landmark in
Stavanger. With its location in the
middle of the city center, you can
spot it from almost everywhere in
the city. And this also explains why
the first version was built in about
1650 as a watch tower for fires.
In Hafrsfjord, right outside
Stavanger, you will find one of
Norway´s most famous landmarks,
the monument «Sverd i stein» - or
«Swords in Rock» in English.
The Norwegian Oil Museum in
Stavanger tells the story about the
Norwegian Oil Aera in The North
Sea
A visit to one of Norway's largest
themeparks - Kongeparken.
Located about 30 min drive from
Stavanger
In the summer, when the weather
is nice, Stavanger comes to life in
the evening
in this video we explore the
shopping opportunities in
Stavanger and gives you an
overview