Copyright © 2022 Allthegoodies.com
CONTACT
e: norwaycation@allthegoodies.com
If you are interested in sports and
action, norway has a lot for both
spectators and participants. In
winter, there are crosscountry tracks
almost in every place there are snow.
If you prefer downhill skiing, Norway
is known for the long winter seasons,
the largest skimresorts are open
from mid November to the start of
May, and the snow quality stays
good much longer than in the Alps
Most of the mountain resorts now
focus on cycling and hiking in the
summer with a fast growing
number of cycling flow paths and
challenging downhill tracks - and of
course a lot of much easier tracks.
Do you prefer hiking, there are
marked tracks by Den Norske
Turistforening all over norway. You
can download maps an follow the
red T to keep on track.
We also focus on action filled things
to do and will expand this section
with a lot of different activities, so
please come back for updates.
Tap on each of the images below to
open the video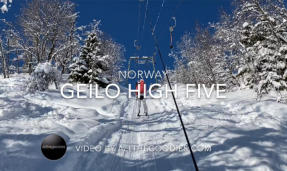 Ski Geilo has introduced a new
challenge - the Geilo High Five. Visit
five peaks over 1000 m within the ski
area. Get a punchcard and a map
and join the challenge which
includes free coffee or hot
chocolate.
All lifts and slopes in the skiresort
Geilo at the same day - two valleys,
five mountain sides. First all slopes
at the «Geiloside», then the skibus to
Vestlia and Kikut and all slopes
there. In this video we show you a
suggested route.
A five minutes ride down some of
the winter dressed forest slopes in
Geilo, Norway.
If you want a taste of summer
during the winter season or a
warmer alternative during summer,
you can go swimming in several
pools in Geilo. Here we take a closer
look at the alternatives.
If you need to take your mind away
from everything at the moment, a
video of snow kiting at a remote
place such as Hardangervidda
Mountain Plateau in Norway can be
an alternative.
A tour of the ski slopes of Geilo in
January
We visit the summer ski center at
Folgefonna Glacier, the third largest
glacier in Norway. It is located in
Hardanger, about 2,5 hours drive
from Bergen.
One of the most amazing activities
you can attend when visiting Flåm,
is to rent a bike in Flåm, bring it
with you on Flåmsbana to Myrdal
and ride it back to Flåm. you follow
the river and pass some beautiful
waterfalls
A paraglider flying over the
stunning Stegastein viewpoint
several times in beautiful weather
with Aurlandsfjorden and the
Unesco World Heritage site of
Nærøyfjorden as a backdrop.
At the starting point of Flåm
Ziplaine at the top of the Flåm
Valley you will also find a viewing
platform with magnificent view of
the mountains and valley
We have tested the zipline at Geilo
in Norway, one of the largest in
Norway. It is located in Vestlia as
part of Geilo Sommerpark.
In our range of videos presenting
activities in Geilo Mountain Village
in Norway, we here present Geilo
High Rope Course, which is a part
of Geilo Summer Park.
Høyt & Lavt climbing park in
Hemsedal is an important
contributer in the transformation of
Hemsedal to become an all-year
destination. In this video we take a
look at the climbing park with a
great location here.
The high rope course in Hallingdal
is part of Høyt & Lavt Climbing
Parks. The one we visit in this video
is located by Hallingdal Feriepark,
about 1 km west of Ål center.